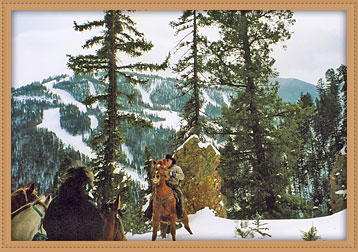 We offer a variety of guided horseback tours (winter too, weather permitting):
Reservations recommended, call 575-754-1700 to book a ride
1 HOUR TOUR:
We have rides leaving the stables daily at 9 am, 10:30 am, 1 pm, 2:30 pm and 4 pm. This is our most popular ride. The trail climbs 400+ feet offering beautiful vistas of Red River and the ski area.
Price: $40 per horse – (all prices include tax)
NEW RIDES ON RED RIVER SKI AREA
2 HOUR TOUR:
Leaving  the stables at 9:30 am, 1:30 pm & 4 pm,
this ride is great for beginners as well as expert riders.
Nice, wide trails with incredible views!
Price: $80 per horse
4 HOUR TOUR:  BREAKFAST OR LUNCH RIDE
Leaving the stables at 8 am or 10 am, ride on nice, wide trails
up to the Tip Restaurant and enjoy a bite to eat on the deck
while gazing at some of the most spectacular scenery New
Mexico has to offer!
Price:  $140 per horse*
*Price for ride only, you are responsible for your meal.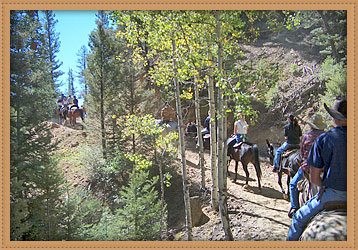 GOOSE CREEK AND MIDDLE FORK LAKE TRAILS
3 HOUR TOUR:
The Goose Creek Trail is a great ride for intermediate  to  advanced riders.
Price:  $105 per horse
4 HOUR TOUR:
Ride to Middle Fork Lake and enjoy the scenery at a remote high mountain lake.  Beginners to intermediate riders.
Price:  $140 per horse
WHEELER PEAK RIDE:
Ride to the highest peak in New Mexico – 13,191′.  All you can say about this adventure is – UNBELIEVEABLE!
Intermediate to advanced riders only.  8 hour ride.
Price:  $280 per horse
NOTE:  No doubles on any multi-hour ride – doubles only on the 1 hour tour.